Patricia Canfield, Town Clerk
The Town Clerk's Office is the center of town government. The Town Clerk maintains Town Board records and publishes notices of public hearings. As the Registrar, the Town Clerk keeps birth and death records; issues birth and death certificates and burial permits; and conducts genealogical searches. The Town Clerk is an elected office with a four-year term.
Please Note:  There are secure drop boxes available at the front entrance of the Town Offices located on Main St. for DMV and Town Hall after business transactions (dog license renewals, etc.)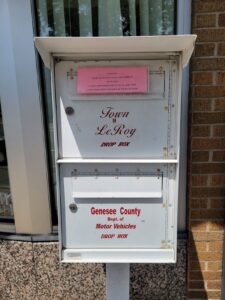 Mailing Address
    Town of LeRoy    48 Main Street    LeRoy, NY 14482 
Contact
Patricia A. Canfield – Town ClerkPhone: (585) 768-6910  ext. 229e-mail: 
townclerk@leroyny.org
 Mary Margaret Ripley – Deputy ClerkPhone: (585) 768-6910 ext. 226e-mail: deputyclerk.tol@gmail.com
Office Hours:
Monday thru Friday 9:00 AM – 4:30 PM,
After Hours – Call for an appt.