Pool
Hours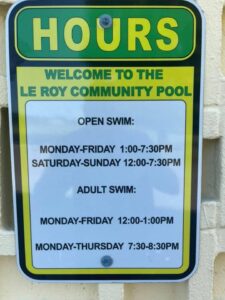 Monday- Friday 
Adult Swim 12-1pm & 7:30-8:30pm

Open Swim 1pm-7:30pm
Saturday & Sunday
Swim Lessons
Swim lesson instruction will be offered this summer. Registration deadline is June 30th
Cost: $30 (covers all lessons per child)
Registration Links:
Memberships & Passes:
Memberships and daily passes are for LeRoy residents ONLY! 
Cost:
Family Membership $95/family

Single Membership $35/person

Daily pass $3/person each day
**Members MUST wear their pass at all times while in the pool area and swimming.
**Daily pass purchasers will receive a wristband to wear.
**Anyone 2 and over is required to have a pass.
Weather:
Behaviors:
Appropriate behavior is both expected & appreciated. Recreation Supervisors and Lifeguards reserve the right to restrict participation of misbehaving individuals. Should the behavior continue, parents will be notified concerning any further action.